When you're in the market for a midsize SUV, two names that should be on your radar are the GMC Acadia and Toyota Highlander. Both of these popular models have made a name for themselves with their blend of performance, comfort, and value.
As you read on, keep in mind that this is no cursory glance at these two vehicles; we've done our homework so you can benefit from an unbiased evaluation rooted in deep automotive knowledge.
You'll get a comprehensive look at how the GMC Acadia squares up against the Toyota Highlander across multiple facets – from horsepower to infotainment system quality and beyond.
Overview of Both Models
The Acadia, produced by General Motors, is a strong contender known for its spacious cabin, powerful engine options, and impressive towing capacity. With its striking aesthetics, it carries a bold presence on the road that's hard to miss.
On the other hand, we have Toyota's pride: the Highlander. This reliable machine stands out with its superior fuel efficiency, advanced safety features as part of Toyota's Safety Sense suite, and comfortable ride quality. It also boasts a reputation for longevity that gives it an edge in many buyers' eyes.
Let's dig deeper into these models. The Acadia comes with a standard seven-seat configuration (though you can opt for six or five seats).
It offers three engine choices: a 193-hp 2.5L four-cylinder base engine; a stronger 310-hp 3.6L V6; and finally, a potent turbocharged four-cylinder offering brisk acceleration and power on demand.
The Highlander has seating for eight with second-row bench seating but also provides an optional seven-seat arrangement with captain's chairs in place of bench seats.
Powering this beast is either a fuel-efficient 295-hp 3.5L V6 or an even more efficient hybrid variant coupling an Atkinson-cycle inline-four gas engine with electric motors delivering a combined horsepower of around 243hp while boasting impressive EPA-estimated mileage figures – making it one of the most eco-friendly contenders in this segment.
Performance Comparison
When it comes to zipping around town or cruising on the highway, you'll definitely feel a difference between these two models.
The GMC Acadia is powered by a standard 2.5L four-cylinder engine that delivers 193 horsepower and 188 lb-ft of torque.
It's not as strong as some competitors in the midsize SUV class, but it should be plenty for your daily driving needs. If you want more power, there's an available 3.6L V6 engine with 310 horsepower and 271 lb-ft of torque.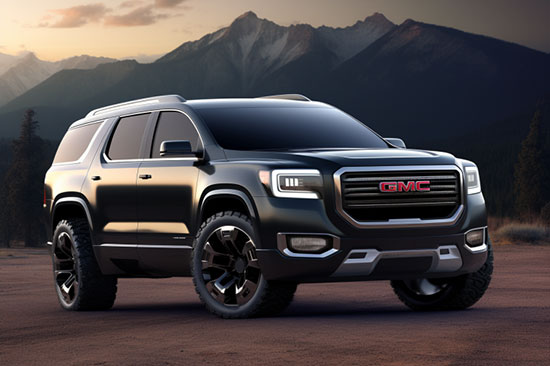 On the other hand, the Toyota Highlander comes standard with a robust 3.5L V6 engine that churns out an impressive 295 horsepower and 263 lb-ft of torque, which gives it quick acceleration off the line and ample power on the highway.
It's mated to an eight-speed automatic transmission that provides smooth shifts for comfortable driving dynamics.
Additionally, if fuel efficiency is high in your priorities list, Toyota also offers a hybrid version of Highlander which combines decent performance and incredible gas mileage – something you won't find in the Acadia lineup as yet.
Interior Comparison
Stepping inside these two SUVs, it's clear they've been designed with comfort and convenience in mind, making every ride feel like a luxurious experience.
The GMC Acadia offers an upscale cabin fitted with high-quality materials that give you a sense of luxury. It's spacious too, offering plenty of room for passengers in all three rows and ample cargo space.
On the other hand, the Toyota Highlander features a more modern interior design packed with user-friendly technology. Diving into specifics, the Acadia's cabin is plush with premium touches such as available leather upholstery and power-adjustable heated front seats.
Plus, it comes standard with tri-zone automatic climate control ensuring each passenger's comfort. The Highlander impresses with its soft-touch surfaces and sophisticated styling.
It also provides seating for up to eight people – one more than the Acadia – which could come in handy if you often carry many passengers.
When it comes to technology, both vehicles stand out but in different ways. While Acadia boasts about its 8-inch touchscreen infotainment system complete with Apple CarPlay and Android Auto compatibility, Highlander takes pride in its comprehensive suite of safety features under the Toyota Safety Sense P (TSS-P) banner.
In terms of layout and ergonomics though, both are pretty on par – controls are logically arranged and easy to reach while driving. So ultimately your choice would depend on what you value more: Acadia's suave sophistication or Highlander's contemporary vibe coupled with advanced safety tech.
Safety Features
As you buckle up and hit the road, your peace of mind is paramount, making safety features an essential part of any vehicle decision.
Both the GMC Acadia and Toyota Highlander are equipped with a wide range of safety features that help ensure your ride is not just comfortable but also safe.
The GMC Acadia offers standard driver-assist systems like automatic emergency braking, forward collision warning, lane keep assist and rear cross-traffic alert.
On the other hand, the Highlander comes standard with Toyota Safety Sense 2.0 which includes a pre-collision system with pedestrian detection, dynamic radar cruise control, and lane departure alert with steering assist among others.
Let's go deeper into this comparison to give you a clearer idea of which SUV excels in providing superior safety for its passengers.
In terms of advanced options available for extra cost, both vehicles offer quite similar ones: blind-spot monitoring and surround-view camera system – all designed to provide an additional layer of protection on the road.
It's worth noting that while Acadia's Teen Driver feature allows you to monitor your teen's driving habits and set limitations for certain functions – a unique attribute in this segment – Toyota Highlander doesn't lag behind either.
Its advanced airbag system coupled with various passive safety measures like crumple zones and side-impact door beams offers top-notch passenger protection during collisions or accidents.
Thus, when it comes to safety features alone, both vehicles put up a strong fight making it hard to pick a clear winner without considering personal preferences.
Fuel Efficiency
You're certainly going to want to consider fuel efficiency before making your final decision on an SUV. When it comes to the GMC Acadia, you'll find that it manages 21 miles per gallon in the city and 27 mpg on the highway with its base engine, a four-cylinder. However, if you opt for one of the available V6 engines, those numbers drop slightly.
The Toyota Highlander, on the other hand, offers impressive fuel efficiency for its class. With its standard four-cylinder engine, it earns up to 20 mpg in the city and 28 mpg on the highway which is quite competitive.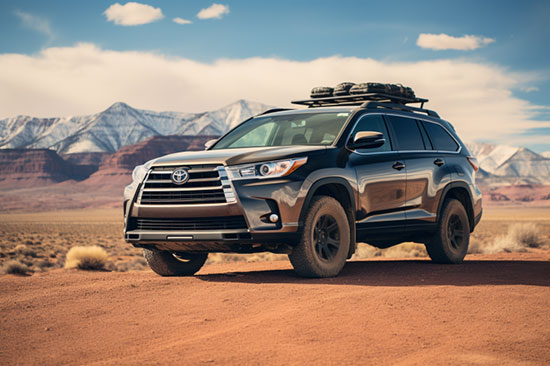 Taking into consideration hybrid models provides another perspective. The Highlander Hybrid model stands out with EPA estimates reaching up to 36 mpg both in city and highway driving conditions.
In comparison, GMC doesn't offer a hybrid version of Acadia which might be a setback if you're keen on cutting down fuel expenses significantly.
In conclusion, while both vehicles offer decent fuel economy for their size and power level, Toyota's offering edges out by being more versatile in terms of drivetrains including an eco-friendly option that's hard to match currently by GMC Acadia's lineup.
Pricing and Value
When it comes to getting the best bang for your buck, both of these midsize SUVs have a lot to offer. The GMC Acadia starts at around $29,800 for the base SL model and goes up to about $47,500 for the top-of-the-line Denali version.
On the other hand, Toyota Highlander is a bit more expensive; its prices start at approximately $34,600 for the base L model and reach up to about $48,800 for the premium Platinum trim level.
However, don't forget that pricing isn't only about initial cost; it also encompasses resale value and total ownership costs.
Let's take a look at some numbers:
| Price type | GMC Acadia | Toyota Highlander |
| --- | --- | --- |
| Base Price | $29,800 | $34,600 |
| Top Trim Level Price | $47,500 | $48,800 |
| Average Resale Value after Five Years (percentage of original price) | Around 40% | Around 60% |
| Estimated Total Ownership Cost over Five Years (including depreciation, insurance, maintenance etc.) | Slightly higher than average in class | Lower than average in class |
As you can see from this table above – while Acadia may come with a lower upfront cost compared to Highlander – Toyota's midsize SUV offers better residual value and lower total ownership costs over time which could make it a more economical choice in the long run.
So when deciding between these two quality vehicles according to their pricing and value proposition – consider not just what you'll pay today but also how much they will be worth tomorrow as well as overall running costs down the road.
Pros and Cons of Each Model
The GMC Acadia boasts a potent V6 engine that delivers robust performance, making it an excellent choice if power is high on your list.
It also offers a smooth ride with its sturdy suspension system and is notably quiet on the highway. Inside, you'll find a user-friendly infotainment system that comes standard with Apple CarPlay and Android Auto.
However, there are some downsides to consider. For one, its fuel efficiency lags behind many competitors in this segment.
Additionally, while the Acadia has ample space for passengers in the first two rows, its third-row seating can be somewhat cramped.
On the other hand, the Toyota Highlander shines when it comes to reliability and resale value – two important factors for long-term ownership costs.
Its interior offers more passenger space than the Acadia's, particularly in the third row where adults can sit comfortably. Plus, it gets better gas mileage which could save you money at the pump over time.
As for technology features, like Acadia, it also offers standard Apple CarPlay and Android Auto integration but additionally includes adaptive cruise control as part of its suite of advanced safety systems – something not standard on all Acadias.
On the downside though, some might find Highlander's four-cylinder base engine underpowered compared to Acadia's vigorous V6; however, upgrading to Highlander's available V6 helps bridge this gap significantly.
Conclusion
In conclusion, both the GMC Acadia and Toyota Highlander have their strengths. It's all about what you prioritize.
If performance and comfort are your top concerns, the Acadia might be your best bet. However, if safety features and fuel efficiency are more important to you, consider the Highlander.
Remember, a car is a significant investment. Make sure to weigh these factors carefully before making your decision. A test drive should help seal the deal!