When you're out there hunting for a new SUV, two models that might have caught your eye are the Chevy Blazer and the Toyota RAV4. Both of these vehicles boast impressive features and performance, making them popular choices in today's market.
However, they're not identical twins by any stretch of the imagination – each has its unique strengths and weaknesses, and depending on what you prioritize in your ride, one is likely to suit you better than the other.
In this detailed comparison between the Chevy Blazer vs Toyota RAV4, we'll talk about their performance metrics, interior comfort levels, technological offerings, cargo space capacities as well and pricing strategies.
We'll also provide perspective on their warranty and maintenance coverage plans so you can make an informed decision about which vehicle gives you more bang for your buck.
By laying all cards on the table in an unbiased manner, we hope to help guide you toward finding a car that best aligns with your lifestyle needs and preferences.
Performance Comparison
You'll feel the thrill of power beneath your fingertips when you compare the raw performance of the Chevy Blazer against the RAV4—it's an exhilarating ride that'll keep your heart racing.
The 2022 Chevy Blazer comes with a standard 2.5L four-cylinder engine that cranks out 193 horsepower and is paired with a nine-speed automatic transmission.
However, if you're looking for more power, opt for either the available 2.0L turbocharged four-cylinder producing 227 horsepower or even better yet, the robust V6 engine that generates an impressive 308 horsepower.
On top of this, the Chevy Blazer offers optimal control and stability as it boasts an advanced all-wheel-drive system.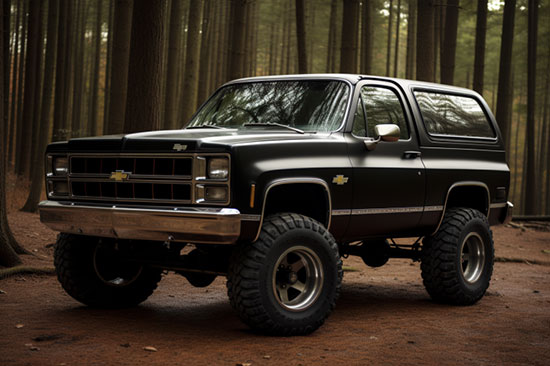 On the other hand, let's not underestimate Toyota's ever-popular RAV4 in this comparison—its performance isn't to be sneezed at either.
Its standard offering is a 2.5L four-cylinder engine, which pushes out around 203 horsepower and has been linked to an eight-speed automatic transmission—slightly less than what's offered by Chevy but still respectable nonetheless.
For those interested in hybrid technology for greater fuel efficiency, there's also a RAV4 hybrid model available delivering up to 219 combined net horsepower while maintaining impressive gas mileage stats!
In terms of handling and drivability though, both vehicles offer smooth rides with precise steering capabilities, making them great choices for adventurous individuals seeking fun driving experiences.
Interior Comfort
Sliding into the luxurious cabin of these two rivals, it's clear they both place a high priority on passenger comfort and satisfaction.
The Chevy Blazer boasts a modern, sporty interior design that is driver-focused with easy-to-use infotainment systems and comfortable seats.
On the other hand, the RAV4 counters with its spacious cabin that offers generous headroom and legroom for all occupants.
Despite their contrasting design philosophies, both models have done an admirable job in creating inviting interior spaces.
In terms of specific features, the Blazer offers heated seats (even in the rear), dual-zone automatic climate control, and a Bose premium sound system as available options to enhance your comfort level.
Toyota's RAV4 also provides heated seats but adds ventilated front seats for added luxury. It further includes dual-zone automatic climate control like its rival but sets itself apart with an available panoramic glass roof that lets you enjoy natural light during your journeys.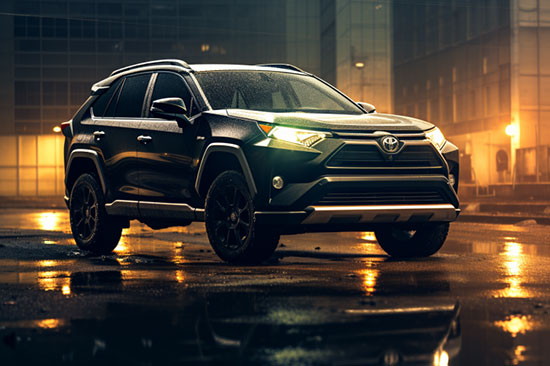 Both cars come equipped with sophisticated infotainment systems featuring Apple CarPlay and Android Auto compatibility to keep you entertained on the go.
Clearly, each model has its unique strengths when it comes to interior comfort. Your choice between them would depend largely on personal preference – whether you prefer the sporty ambiance of the Blazer or appreciate RAV4's spaciousness more.
Technology Features
When it comes to high-tech bells and whistles, both these contenders don't skimp on delivering the goods. The Chevy Blazer is equipped with a standard 8-inch touchscreen infotainment system that supports Apple CarPlay, Android Auto, and has onboard Wi-Fi hotspot capabilities.
This SUV also offers five USB ports, wireless device charging, and an option for an eight-speaker Bose sound system. On top of this tech feast, the Blazer offers advanced safety features including adaptive cruise control, forward collision alert, and lane keep assist.
On the other hand, Toyota's RAV4 doesn't lag behind in the technology race either. It comes with a 7-inch touchscreen as standard but can be upgraded to an 8-inch screen.
Like the Blazer, it also supports Apple CarPlay and Android Auto along with Amazon Alexa integration – something not featured in the Chevy model.
Additional tech features include up to five USB ports and optional Qi-compatible wireless smartphone charging.
Safety-wise, the RAV4 shines with its Toyota Safety Sense suite which includes a pre-collision system with pedestrian detection, dynamic radar cruise control, and lane departure alert with steering assist among others.
Both vehicles offer robust technology packages; your preference may come down to brand-specific features or unique offerings like Amazon Alexa functionality or Bose audio systems.
Cargo Space
Let's not forget about cargo space, because whether you're loading up for a weekend getaway or just hauling groceries, it's an aspect that can make or break the practicality of your SUV.
The Chevy Blazer offers plenty of room to meet your needs with 30.5 cubic feet behind the rear seats and a generous 64.2 cubic feet when those seats are folded down.
That's enough to accommodate larger items, like sporting equipment or furniture pieces. Plus, with a wide rear opening and low-load floor, getting heavier items in and out is less strenuous.
On the other side of this comparison is the Toyota RAV4, which boasts slightly more cargo space than the Blazer.
With 37.6 cubic feet available behind its back seat and up to 69.8 cubes with it folded flat, you'll have more flexibility packing for that road trip or big shopping run.
Additionally, RAV4's low liftover height makes it easy to load heavy luggage without straining your back—a valuable feature if you frequently use your SUV's trunk space!
Both vehicles offer ample storage options but depending on what you're looking for—whether that be maximum capacity or ease of access—you'll need to weigh these specifications carefully in your decision-making process.
Pricing
Investing in a new SUV can feel like a big step, but understanding the pricing differences between options can help you make an informed decision that suits both your lifestyle and wallet.
When comparing the Chevy Blazer to the Toyota RAV4, it's important to consider not just the initial purchase price, but also factors such as predicted reliability, long-term maintenance costs, and fuel efficiency.
Let's break down some of these costs:
Initial Purchase Price: Generally, the starting price for a new Toyota RAV4 is lower than that of a Chevy Blazer. However, be aware that higher trim levels or additional features may increase this base price.

Predicted Reliability: According to J.D. Power's ratings for 2020 models, both vehicles score well in terms of predicted reliability. This means they're expected to require fewer repairs than average over time.

Maintenance Costs: The cost of routine maintenance (like oil changes and tire rotations) can vary depending on the vehicle model and where you take it for service. Always check with local dealerships or service centers for accurate estimates.
Fuel Efficiency: The RAV4 offers better fuel economy compared to the Blazer – meaning potential savings in gas expenses over time.

Insurance Costs: Don't forget about insurance! Rates can vary widely based on different factors including vehicle make/model, your driving history & location among others.
Remember that while the upfront cost is significant when purchasing an SUV, long-term expenses such as maintenance and fuel should also factor heavily into your decision-making process.
With their distinct advantages and considerations, either one could be a good fit depending on your individual needs and preferences.
Warranty and Maintenance Coverage
You've got to love the peace of mind that a decent warranty brings, right? When it comes to the Chevy Blazer and Toyota RAV4, both offer substantial coverage. However, they do have some differences that are worth noting.
The Chevrolet Blazer has a limited warranty covering 3 years or 36,000 miles and a powertrain warranty covering 5 years or 60,000 miles.
Additionally, it provides one complimentary scheduled maintenance visit within the first year of ownership.
Toyota's RAV4 offers slightly different coverage terms with its limited warranty covering three years or 36,000 miles and its powertrain warranty stretching out for five years or 60,000 miles as well.
Yet, unlike the Blazer, Toyota provides two years of complimentary scheduled maintenance under their ToyotaCare plan. Below is a detailed comparison table:
| Coverage Type | Chevy Blazer | Toyota RAV4 |
| --- | --- | --- |
| Limited Warranty | 3 Years/36k Miles | 3 Years/36k Miles |
| Powertrain Warranty | 5 Years/60k Miles | 5 Years/60k Miles |
| Complimentary Maintenance Visit(s) in First Year | One Visit Within First Year | Two Years Under ToyotaCare Plan |
When you weigh these options against each other in terms of cost efficiency over time and your specific driving habits/preferences, neither vehicle outshines the other across all aspects but will likely appeal differently to individual drivers based on their unique needs.
Final Verdict
After crunching the numbers and thoroughly exploring all facets of these two impressive SUVs, it's time to deliver the final verdict.
Both the Chevy Blazer and Toyota RAV4 have their strengths, offering unique features that can cater to different consumer preferences.
The RAV4 shines with its fuel efficiency, reliable reputation, and strong resale value. It also boasts advanced safety features as part of its standard package.
On the other hand, the Chevy Blazer stands out with its bold style, powerful performance options, and plush interior.
Here's a more detailed breakdown:
Toyota RAV4
Fuel Efficiency

: The RAV4 is hard to beat in terms of gas mileage.

Resale Value

: Historically, Toyota has held its value well over time.

Safety Features

: Standard across all models are advanced safety systems like adaptive cruise control and lane-keeping assist.
Chevy Blazer
Style: With aggressive styling cues taken from the Camaro sports car line-up, the Blazer turns heads.
Performance Options

: Various powertrains including a robust V6 engine are available depending on your need for speed or towing capacity.

Interior Comfort

: Higher trims offer luxurious appointments akin to premium brands.
At the end of the day though, your choice between these two SUVs will ultimately depend on which aspects you prioritize most in your vehicle – be it fuel efficiency or style; safety or power; resale value or interior comfort. You really can't go wrong with either one!
Conclusion
You've seen the facts, now it's up to you.
Both the Chevy Blazer and the RAV4 have their strengths, but your choice ultimately depends on what you value most in a vehicle.
If performance and interior comfort are your top priorities, perhaps the Blazer is for you. But if cargo space and technology features take precedence, then maybe consider the RAV4.
Weigh all factors carefully, including pricing and warranty coverage before making your final decision.