When you're in the market for a new SUV, it can be quite challenging to determine which model best suits your needs, especially when considering models that are as closely matched as the Buick Enclave, GMC Acadia, and Chevrolet Traverse.
Each of these vehicles offers a unique blend of style, performance, comfort, and value. In this article, we'll delve deep into each model's specifics to help you make an informed decision.
We'll compare and contrast these three vehicles based on their performances and engine specifications, interior comfort features, safety ratings, and features. We'll also look at pricing and overall value-for-money aspects.
We aim to offer unbiased analysis backed by accurate technical reporting; helping you understand the pros and cons of each model.
Overview of Each Model
You're about to dive into the world of three dynamic SUVs: the Enclave, Acadia, and Traverse; buckle up as we explore what each model brings to the table!
The Buick Enclave is a luxury midsize SUV with a smooth ride and generous cargo capacity. It comes standard with a 3.6-liter V6 engine that delivers 310 horsepower – more than enough for most driving situations – and pairs it with a nine-speed automatic transmission.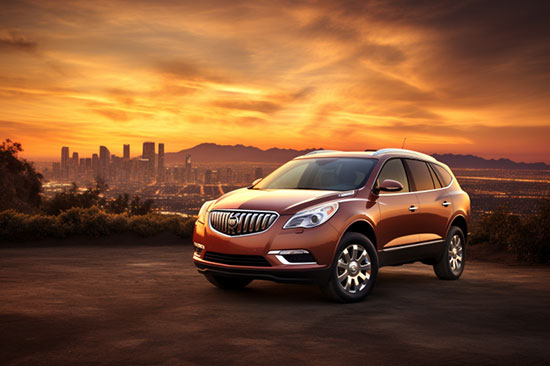 Inside, you'll find an elegant cabin filled with top-notch materials and advanced tech features such as Apple CarPlay, Android Auto, satellite radio, Wi-Fi hotspot, six USB ports, and an 8-inch touch screen.
The GMC Acadia is also a midsize SUV but leans toward the sportier side of things with its sharp handling. Its standard four-cylinder engine pumps out 193 horsepower while the optional V6 can ramp up to 310 horsepower.
You'd appreciate its upscale interior that includes tri-zone automatic climate control and an infotainment system featuring an 8-inch touchscreen, Apple CarPlay, Android Auto, and Bluetooth.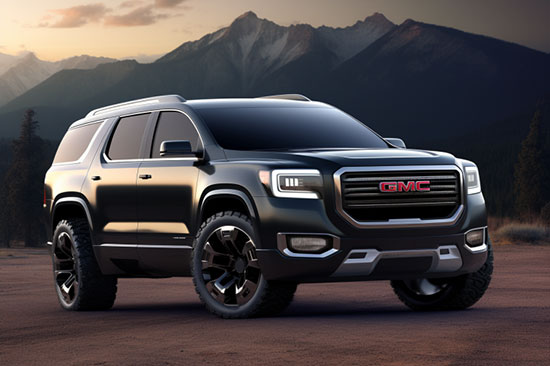 Now let's move on to the Chevrolet Traverse which stands out for its spaciousness offering seating for up to eight people along with ample cargo space.
It has similar powertrain options as the others – a base four-cylinder or optional V6 paired with a nine-speed automatic transmission – but distinguishes itself by providing supportive seats even on long drives coupled with intuitive technology like the MyLink infotainment system that boasts a 7-inch touchscreen display.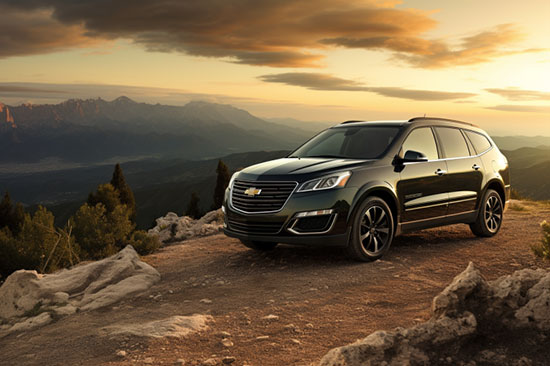 Performance and Engine Specifications
Now, let's dive into the heart of these vehicles – their performance and engine specifications.
You'll want to compare their horsepower and torque, as these are key indicators of a vehicle's power and acceleration capabilities.
Additionally, we can't overlook fuel efficiency, an important factor in determining both the environmental impact and running costs of your potential new ride.
Compare Horsepower and Torque
If you're a speed enthusiast, buckle up because the Enclave, Acadia, and Traverse are about to blow your mind with their horsepower and torque.
Let's first take a look at the Buick Enclave. It houses a 3.6L V6 engine that yields an impressive 310 horsepower and 266 lb-ft of torque.
This powerful combination gives you plenty of power for highway cruising or towing heavy loads on any terrain.
In comparison, the GMC Acadia is equipped with a standard 2.5L four-cylinder engine that delivers 193 horsepower and 188 lb-ft of torque.
However, it also offers an optional 3.6L V6 engine that boasts similar stats to the Enclave – around 310 horsepower and roughly 271 lb-ft of torque.
Moving on to the Chevrolet Traverse, it shares a lot in common with its sibling—the Enclave—as it too features a robust V6 engine under its hood. It cranks out 310 horsepower and approximately 266 lb-ft of torque.
While all three vehicles have their strengths, if you're looking for raw power in terms of both horsepower and torque, then either the Buick Enclave or Chevy Traverse would be your best bet given their identical figures in this aspect.
However, don't write off the GMC Acadia just yet! It has slightly less oomph but could still meet your needs if fuel efficiency over sheer power is what ticks your boxes.
All three offer impressive performance capabilities, but ultimately your final decision will depend on what exactly you're looking for in terms of power output versus fuel economy balance.
Discuss Fuel Efficiency
Let's shift gears and delve into the fuel efficiency of these power-packed vehicles, a crucial element that should never be overlooked when choosing your next ride.
The Buick Enclave, GMC Acadia, and Chevrolet Traverse each offer their own unique take on balancing power with parsimony at the pump.
All three models are equipped with fuel-saving technologies such as variable valve timing and direct injection. However, how do they fare when it comes to actual miles per gallon (MPG) figures?
Here is a breakdown of their EPA-rated fuel economy:
| | City MPG | Highway MPG | Combined MPG |
| --- | --- | --- | --- |
| Buick Enclave | 18 | 26 | 21 |
| GMC Acadia | 19 | 27 | 22 |
| Chevrolet Traverse | 18 | 27 | 21 |
As you can see from the table above, all three vehicles exhibit similar performance in terms of fuel efficiency.
The GMC Acadia slightly outperforms its siblings in city driving conditions while matching them on highway mileage.
On the other hand, both the Buick Enclave and Chevrolet Traverse provide consistent performance across different driving environments.
Despite minor differences in figures, all three are commendable for managing to strike an impressive balance between delivering powerful performances while still prioritizing fuel economy. Keep this in mind as you continue exploring which vehicle might serve your needs best.
Interior and Comfort Features
Imagine yourself sinking into the plush leather seats of the Enclave, enjoying the spacious and luxurious cabin of the Acadia, or reveling in the ample legroom offered by the Traverse.
The Buick Enclave is all about luxury, featuring heated and ventilated front seats with power adjustments for maximum comfort.
The premium materials used throughout its interior elevate your driving experience while its QuietTuning technology ensures a serene ride.
On par with it is GMC's Acadia which too offers an upscale cabin boasting high-quality materials and easy-to-use infotainment system. It also provides optional heated second-row seats that are sure to be appreciated by your passengers.
In comparison, Chevrolet's Traverse may not offer as many luxury features as its counterparts but it makes up for this in space.
It has one of the roomiest cabins in its class, offering generous passenger space even in the third row – a rarity among midsize SUVs.
Add to this is a versatile cargo area that easily adapts to your needs thanks to smart storage solutions like hidden underfloor compartments.
Its comfortable seating accommodates up to eight people, making it ideal for larger families or those who often have additional passengers.
Plus, there's also tri-zone automatic climate control ensuring everyone stays comfortable no matter where they're seated.
Despite their differences, each vehicle brings distinct strengths when it comes to interior comfort and features – a testament to their well-thought-out designs.
Safety Ratings and Features
Let's delve into the safety ratings and features of the Enclave, Acadia, and Traverse. We'll dissect crash test results to give you an understanding of how these vehicles perform under critical conditions.
Then, we'll assess the advanced safety technology incorporated in each model to help you make a well-informed decision about which SUV might be your safest choice.
Discuss Crash Test Results
You'll be pleased to know that the Enclave, Acadia, and Traverse all boast impressive crash test results, offering you a sense of security as you navigate both city streets and winding country roads.
In testing conducted by the National Highway Traffic Safety Administration (NHTSA), each model received a 5-star overall safety rating – the highest possible score.
This rating includes high scores in frontal crashes, side crashes, and rollover resistance tests. Furthermore, they also have advanced safety features like blind-spot monitoring systems and automatic emergency braking, which can further help prevent accidents.
Switching over to the Insurance Institute for Highway Safety (IIHS), these three SUVs also performed admirably well.
All models were awarded 'Good' ratings in all crashworthiness categories, including moderate overlap front, side impact, roof strength, and head restraints & seat tests.
The Buick Enclave stands out with its standard forward-collision warning system that earned it an advanced rating for front crash prevention by IIHS.
Meanwhile, GMC's Acadia is equipped with optional driver assistance technologies such as lane-keep assist and rear cross-traffic alert, which have proven effective in real-world scenarios.
Chevrolet's Traverse also fares well with its Teen Driver system that allows parents to set speed limiters and volume controls to encourage safe driving habits among young drivers. These numerous accolades demonstrate how seriously each brand takes your safety on the road.
Evaluate Safety Technology
After delving into the crash test results of the Buick Enclave, GMC Acadia, and Chevrolet Traverse, it's clear that each vehicle has its own strengths when it comes to safety.
However, these tests only tell part of the story. It's equally important to consider their safety technology features, which can help prevent accidents in the first place.
Let's start with the Buick Enclave. This SUV is equipped with standard safety features like rear parking sensors and a rearview camera, but what sets it apart is its comprehensive suite of available advanced driver aids.
The options include forward collision alert, automatic emergency braking, lane departure warning assist blind spot monitoring and more.
Now let's turn our attention to the GMC Acadia. It matches many of the Enclave's standard offerings but goes a step further by offering the Teen Driver system as standard, which allows parents to set speed limits for younger drivers—a unique feature in this segment.
Lastly, we have the Chevrolet Traverse. Besides matching many common features found in both competitors (like the rearview camera), it uniquely offers the Teen Driver system as well as the Rear Seat Reminder—both are designed keeping family safety in mind.
In conclusion, all three models offer robust technology-driven safety measures, where each has something unique to offer based on your specific needs.
Pricing and Value
Let's dive right into the pricing and value of the Enclave, Acadia, and Traverse.
We'll start by comparing their base prices, which can give you a good idea of what your initial investment might be.
But don't forget about the upgrades and packages available for each model; these can significantly enhance performance, comfort, or aesthetics—and could potentially tip the scales in favor of one vehicle over another.
Compare Base Prices
Digging into your wallet, you'll find that the base price for the Buick Enclave starts higher than both the GMC Acadia and Chevrolet Traverse.
The Enclave's starting sticker price is around $40,000, a significant jump from the Acadia and Traverse which start in the lower $30,000 range.
This difference isn't just arbitrary; it reflects Buick's positioning as a luxury brand within General Motors' portfolio.
So while you're shelling out more upfront for an Enclave, you're also getting a vehicle that has been designed with premium features and materials.
Now let's dissect this further. If budget is your primary concern, then the Chevrolet Traverse offers great value at its starting price of approximately $30,000 to $35,000 depending on various trim levels available.
Alternatively, if you are looking for something in between luxury and affordability then consider GMC Acadia which starts near the mid-$30k range. It provides some of those upscale touches found in the Enclave without stretching your budget too thin.
In conclusion: each model has its strengths depending on what exactly suits your needs and financial capabilities best – whether it be affordability or opulence.
Discuss Available Upgrades and Packages
When it comes to customizing your ride, each of these models offers an array of upgrades and packages that can enhance both performance and comfort.
The Buick Enclave provides you with three different package options: the Essence, Premium, and Avenir.
Each upgrade package increases the luxury features as you go up in price. The Essence includes leather upholstery and heated front seats, while the Premium adds ventilated front seats and a 10-speaker Bose audio system.
If you opt for the top-tier Avenir, you'll get advanced features like adaptive suspension dampers for a smoother ride, along with premium leather upholstery and a surround-view parking camera system.
The GMC Acadia offers four main package options: SLT-1, SLT-2, AT4, or Denali. The base SLT-1 offers dual-zone automatic climate control while climbing up to the SLT-2 gets you heated second-row seats among other amenities.
The AT4 trim level is designed for off-road enthusiasts providing hill descent control and all-terrain tires whereas Denali is more luxurious featuring chrome accents and hands-free liftgate operation.
Chevrolet Traverse also has multiple trims from L to High Country offering progressive luxury additions such as wireless device charging in LT trims upwards or SkyScape sunroof starting from Premier trim upwards.
Don't forget safety-related upgrades too! Traverse's Driver Confidence II Package available at RS trim level onwards packs forward collision warning with pedestrian detection along with lane departure warning systems which could be important if safety is high on your list of priorities.
Pros and Cons of Each Model
You're probably wondering about the pros and cons of each model, so allow us to break it down for you.
Starting with the Buick Enclave, this model is known for its luxurious interiors and copious standard features, including a power liftgate, three-zone automatic climate control, and an 8-inch touch screen.
It's spacious too, comfortably seating up to seven people in its plush cabin. However, some may find that its fuel efficiency leaves something to be desired when compared to rivals in the same class.
Additionally, while it offers a smooth ride overall, its handling isn't quite as nimble or engaging as some competitors.
Now let's look at the GMC Acadia and Chevrolet Traverse. The Acadia stands out for its potent V6 engine option and user-friendly infotainment system; however, it falls short in terms of cargo space compared to both the Enclave and Traverse. And while it has a high-quality interior design like the Enclave, it offers less standard features.
On the other hand, the Chevy Traverse boasts one of the largest cargo capacities in its class due to an exceptionally roomy third-row seat – a definite pro if you often travel with lots of luggage or gear.
Yet despite this advantage over its counterparts from Buick and GMC alike, be mindful that lower trims lack some desirable safety features as standard equipment; these are more readily available on higher trim levels or through optional packages.
Final Verdict and Recommendations
So, it's decision time: Which one should you choose? The Buick Enclave, GMC Acadia, or Chevrolet Traverse? Each has their own strengths and weaknesses.
Here are a few things to consider:
If luxury is your top priority, then the Buick Enclave would be your best bet with its upscale interior and smooth ride.

If you're looking for a blend of performance and practicality, the GMC Acadia might just strike the perfect balance with its strong engine options and user-friendly technology.

For those who require plenty of space for passengers and cargo alike, the Chevrolet Traverse stands out with its generous cabin room.

However, if fuel efficiency is crucial in your decision-making process, none of these models particularly excel in this area.
In conclusion, your final choice between the Buick Enclave, GMC Acadia, and Chevrolet Traverse boils down to what best suits your specific needs and preferences. Rest assured that all three models are reliable choices within their class.
They each offer comfortable rides along with an array of modern infotainment features. So take some time to weigh up these factors against each model's respective price point before making your ultimate decision.
Conclusion
You've reviewed the details, now it's time to make a decision.
The Enclave offers luxury and performance, while the Acadia is great for off-roading and the Traverse provides ample space.
Your choice will depend on your specific needs. Don't rush your decision. Take into account safety ratings, comfort features, pricing, and more before making the final call.
Each of these models has its own strengths and weaknesses so choose wisely!