You're in the market for a reliable, durable truck and Toyota's lineup has caught your eye. Maybe you've heard of the Toyota Tundra, Tacoma, or Hilux, but you're not quite sure which one suits your needs best.
Each model boasts its own unique features and capabilities – from raw power to off-road prowess to fuel efficiency.
This guide will help you navigate these three standout models from a brand known for its quality vehicles.
Now, let's get into the nitty-gritty. We'll go deep into each model's performance metrics – think horsepower, torque, and towing capacity.
Then we'll explore their interiors: Is it comfort or functionality that's king?
Safety ratings are next on the agenda – after all, there's nothing more important than peace of mind on the road.
Need to watch your fuel budget? We'll compare their miles per gallon too.
And finally, we'll tackle pricing and value for money because we know that every dollar counts when making such a significant investment.
Get ready to become an expert on everything related to Toyota Tundra vs Tacoma vs Hilux!
Overview of Each Model
You're on a mission to find the perfect Toyota truck, so let's dive into an overview of three popular models: the Tundra, Tacoma, and Hilux.
The Tundra is Toyota's full-size pickup offering, boasting robust power with its standard V8 engine and available off-road capabilities. It's larger than both the Tacoma and Hilux and provides more interior space, making it great for hauling heavy loads or accommodating families. However, keep in mind that its size may also contribute to lower fuel efficiency compared to the other two.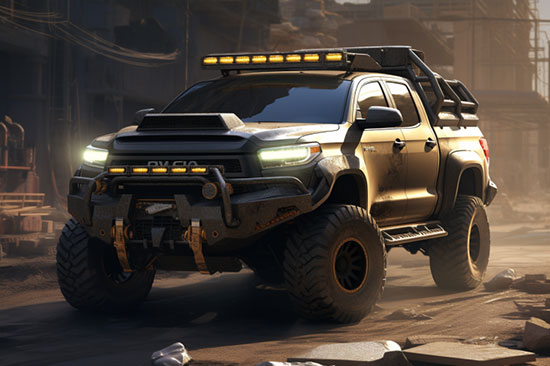 Moving on to the midsize Tacoma, this model offers a balance between power and agility. Its smaller size makes it easier to navigate in city driving while still maintaining decent towing capabilities. If you're into off-roading adventures or need a reliable workhorse for your day-to-day activities, then Tacoma might be your best bet.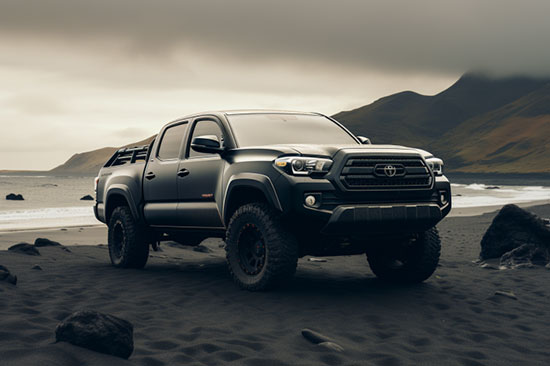 Lastly, the Hilux is renowned globally but isn't available in North America due to emission standards. This long-lasting compact truck excels in durability and versatility; it can withstand challenging terrains without much fuss yet still deliver commendable performance on regular roads.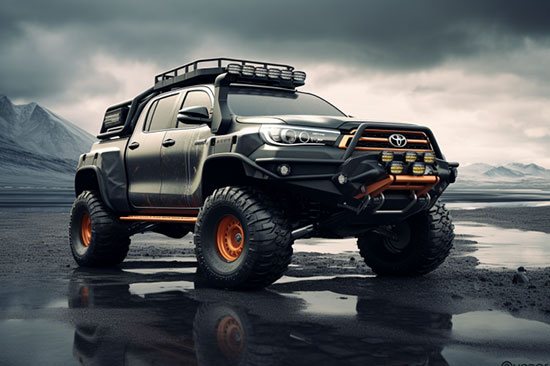 All these trucks have their unique strengths that cater to different needs; therefore, understanding what you prioritize most will guide you toward your ideal choice.
Performance Comparison
When it comes to performance, let's delve into how these three popular trucks stack up against each other. The Toyota Tundra is the largest of the trio and boasts a robust 5.7-liter V8 engine that can pump out an impressive 381 horsepower and 401 lb-ft of torque.
This makes it ideal for heavy-duty tasks such as towing large trailers or hauling bulky loads in its bed. However, this power does come at the expense of fuel efficiency.
On the other hand, you have the Tacoma and Hilux models which are smaller and more fuel-efficient than their bigger sibling.
The Tacoma offers two engine options: a base 2.7-liter four-cylinder with 159 horsepower or a more powerful 3.5-liter V6 with 278 horsepower.
The Hilux, while not available in North America, is touted worldwide for its reliability and off-road capabilities with its 2.8-liter turbo-diesel engine producing around 201 horsepower.
| Model | Engine | Horsepower | Torque (lb-ft) | Fuel Efficiency |
| --- | --- | --- | --- | --- |
| Tundra | 5.7L V8 | 381 | 401 | Low |
| Tacoma (base) | 2.7L I4 | 159 | 278 | High |
| Tacoma (V6) | 3.5L V6 | 278 | 265 | Moderate |
| Hilux | 2.0L | 204 | 309 | High |
Interior and Comfort
Let's shift gears and slide into the comfy interiors of these robust trucks, where comfort and functionality seamlessly blend together.
Starting with Toyota Tundra, it offers a spacious and well-appointed cabin that can comfortably seat up to five people. The Tundra boasts plush seats, a user-friendly infotainment system, and standard amenities like dual-zone automatic climate control.
Then there's the Tacoma, which is a bit on the smaller side but still packs an impressive interior punch. It features sturdy materials throughout its cabin that can withstand heavy usage – perfect for your off-road adventures!
Now let's talk about the Hilux; it may not be as luxurious as its siblings, but it certainly doesn't skimp on comfort or practicality. Key highlights include:
Well-bolstered seats provide ample support during long drives
A straightforward dashboard layout makes controls easy to locate and operate
Plenty of storage compartments are strategically placed for convenience
These attributes make driving or riding in any one of these trucks a pleasurable experience regardless of terrain or distance!
Each truck shines in its own way – whether it's the Tundra's luxurious touches, Tacoma's rugged durability, or Hilux's balance of comfort and practicality.
Safety Features and Ratings
Moving on to safety, these trucks aren't just about comfort and ruggedness – they also prioritize your peace of mind with top-notch safety features and ratings.
The Toyota Tundra is equipped with an extensive suite of safety tech under the Toyota Safety Sense P (TSS-P) umbrella.
This includes the Pre-Collision System with Pedestrian Detection, Lane Departure Alert with Sway Warning System, Automatic High Beams, and Dynamic Radar Cruise Control.
In addition, you'll find eight standard airbags and a comprehensive Star Safety System that includes features like Vehicle Stability Control and Traction Control.
The National Highway Traffic Safety Administration (NHTSA) awarded the Tundra 4 out of 5 stars in its overall rating.
The Tacoma shares many of the same safety features as the Tundra but adds some unique options of its own, including Multi-Terrain Select and Crawl Control for off-road excursions. It also boasts high-strength steel construction enhancing the vehicle's rigidity for better control.
For its part, the Hilux has a robust set of active and passive safety features, including seven airbags, Vehicle Stability Control (VSC), Hill-start Assist Control (HAC), and Brake Assist (BA), among others, which are standard across all variants, making it a reliable choice for safety-conscious drivers.
It's worth noting that while official U.S. ratings are not available for the Hilux due to it not being sold on this market officially, the international crash testing agency ANCAP has given it a solid five-star rating, indicating strong performance in terms of occupant protection.
Fuel Efficiency and Economy
You're probably wondering how these trucks stack up in terms of fuel efficiency, right? When it comes to pickup trucks, the mpg (miles per gallon) can be a significant deciding factor for many buyers.
The Toyota Tundra, Tacoma, and Hilux each have different fuel economy ratings due to their varying engine sizes and power outputs.
The Tundra has a powerful V8 engine that offers strong performance but comes at the expense of fuel efficiency. It has an EPA-estimated rating of 13 city/17 highway mpg.
On the other hand, the Tacoma, with its smaller size and lighter weight provides better gas mileage, ranging from 18 city/22 highway mpg for models equipped with a V6 engine.
The Hilux is not sold in the U.S., so we don't have EPA estimates for it; however, according to Toyota's international specifications, it gets approximately 29 combined mpg.
To give you an easier comparison of this aspect:
| Truck Model | City MPG | Highway MPG |
| --- | --- | --- |
| Tundra | 13 | 17 |
| Tacoma | 18-20* | 22-24* |
| Hilux (International) | 30* | ~29 Combined |
*Varies based on specific models and equipment
Remember that actual fuel consumption will vary depending on factors such as driving habits and vehicle conditions. It's always best to test drive the truck yourself or speak with knowledgeable dealership staff when making your final decision.
Pricing and Value for Money
Now that we've delved into the fuel economy of the Toyota Tundra, Tacoma, and Hilux, let's shift gears and consider another crucial factor: pricing and value for money.
It's one thing to have a truck that performs well on the road; it's quite another to ensure that it doesn't break your bank in the process.
While all three models offer great value, their prices vary significantly. The Tundra is generally more expensive, with its higher-end trims costing up to $50,000 or more depending on the options you choose.
However, its robust performance capabilities and spacious interior justify this price point for many buyers.
On the other hand, both Tacoma and Hilux come in at lower cost brackets – making them more affordable options without compromising on quality or reliability.
Tacomas typically range from $26,000 to $45,000 while Hilux models can start as low as $20,000 but can also reach up to $40,000 for premium versions.
It's important though to remember that costs can fluctuate based on factors like optional features selected or regional market conditions.
Ultimately it boils down to what you're looking for in a pickup – whether it be power and luxury features or affordability mixed with dependability.
Conclusion
In sum, you've seen the ins and outs of the Toyota Tundra, Tacoma, and Hilux.
All three offer different strengths in performance, comfort, safety features, fuel efficiency, and pricing. It's clear each model has its perks – it's up to you to decide which factors are most important.
Whether you're after power or economy, luxury or practicality, one of these Toyota models is sure to hit the mark for your needs.